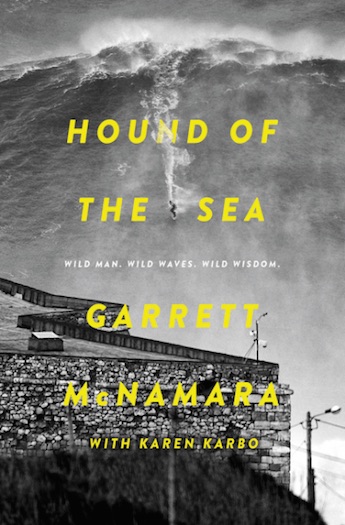 Hound of the Sea is Garrett McNamara's life story so far, from hippie childhood to professional big wave surfer. Most surfers have heard of Garrett 'Gmac' McNamara or at least about his world record breaking 78ft wave at Nazare, Portugal. To ride waves like this you need to be different, in a slightly scary way.
I was scared by the prologue! It starts with Garrett at 22 years old, in a serious Waimea situation. It's a struggle to comprehend, even as a surfer, how water can be so powerful. Garrett ends up passing out and wants to die. His brother is by his side crying and shouting his name. At this point, you know you're in for a heavy ride.
Garrett McNamara
Fortunately chapter one allows you to catch your breath and we get an insight to Garrett's unconventional hippy upbringing. He and his brother Liam were passed between parents, friends and strangers. Unsupervised and feral, they were left to learn by experience. By the age of four Garrett had smoked weed, eaten peyote and drank gasoline.
School was an occasional inconvenience. When they were dropped off at the front gate they would walk through the building and straight out the back to go skateboarding or cause mischief. Then their mother and her new love dragged them to live in Hawaii. That's when surfing changed his life.
Surfing life
Garrett McNamara won $250 dollars in the 1984 Triple Crown. It was the first time he'd won cold hard cash through surfing. This was a turning point in Garrett's life. He took school seriously, graduated and focussed on being a pro surfer.
Gmac's achievements since then include:
• 2002 Jaws World Cup – 1st place
• 2003 Billabong XXL Big Wave Awards – Best overall performance winner
• 2003 Jaws Expression Session – 1st place
• 2005 North Shore Tow Championships – 1st place
• 2006 Nell Scott Tow Championships – 1st place
• 2007 Billabong XXL Awards – Performance of the year & Biggest wave award
• 2008 Billabong XXL Awards – Performance of the year
• 2012 Guinness World Record for Largest Wave Ever Surfed.
In between all that Garrett's surfed waves created by calving glaciers, had many near death experiences and lost friends who weren't as lucky. Kelly Slater once described one of Garrett's waves at Jaws as the 'heaviest thing I ever seen'.
If you want to learn:
• The ingredients of a big wave legend.
• How to overcome fear.
• What it's like to ride and wipe out on monster waves.
Then read Hound of the Sea by Garrett McNamara.
Available to buy on Amazon UK from 15th December 2016.
Want a two minute insight to Gmac and big waves? Watch this: