Ok, I admit the "best surf movies" is a subjective statement but there aren't many surfing movies with a story line, and these are the cream of the crop.
By "surf movies" I don't mean hardcore surf flicks like Modern Collective, September Sessions or even Endless Summer. I mean feature length mainstream movies with actors, scripts and big budgets.
Most surfers will happily watch surf videos until they fall asleep (these days that's 45 minutes for me). But if you're a non-surfer then watching people muck about in the ocean can be mind-numbing.
So I've picked "surf movies" to watch with all those who "don't get" surfing, and hopefully by the end of the film they might show more interest in our obsession. Cunning huh?
1. Big Wednesday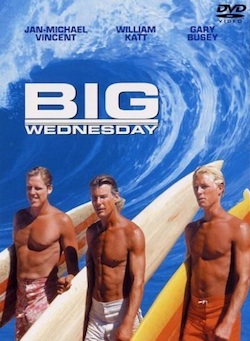 Too watch with: your Dad
Who's in it: Jan-Michael Vincent, William Katt, Gary Busey
Token surfer: Gerry Lopez
What I think
THE classic surf film. When I watched it as a teenager it made me want to surf more and party. Now as a middle aged Dad, it makes me feel sad and nostalgic, as I empathise with the later lives of these local heroes.
Storyline
Three young Californian surfers: Matt Johnson, Jack Barlow, and Leroy Smith live the 1960s surfing dream. In the early days they celebrate the carefree life of waves, girls, and parties. They reluctantly grow up as the world changes and life becomes more complicated. The Vietnam war rips apart their idyllic lifestyles, leaving them to wonder if they will survive until "Big Wednesday," the mythical big wave day. When the greatest, cleanest, most transcendent wave will arrive to re-unite this band of beach blond brothers.
Did you know
Jeff Bridges turned down the role of "Matt" that went to Jan-Michael Vincent.
Quote
Matt Johnson: I don't wanna be a star. Have my picture in magazines, have a bunch of kids looking up to me. I'm a drunk, Bear, a screw up. I just surf cause its good to go out and ride with your friends. I don't even have that anymore.
2. Point Break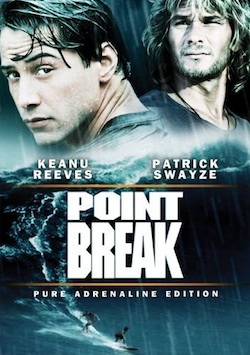 Too watch with: your teenage kids
Who's in it: Patrick Swayze, Keanu Reeves, Gary Busey
Token surfer: Matt Archbold
What I think
So Keanu can't act to save his life but this is still a modern day classic. It's got loads of action and extreme Hollywood cliches to keep teenagers happy, but it also has some essential surfing insights.
Storyline
Set in Los Angeles by the beach, a gang of bank robbers called the ex-presidents steal money to fuel their extreme adventures. The F.B.I. investigates a group of surfers and sends in agent Johnny Utah undercover. While trying to fit in, learn to surf and find the criminals, Utah meets surfer Bodhi and discovers more than he bargained for.
Did you know
Keanu Reeves actually learnt to surf for the role and still surfs to this day.
Quotes
Kid: Surfing's the source man… swear to God.
Bodhi: If you want the ultimate, you've got to be willing to pay the ultimate price. It's not tragic to die doing what you love.
3. Blue Juice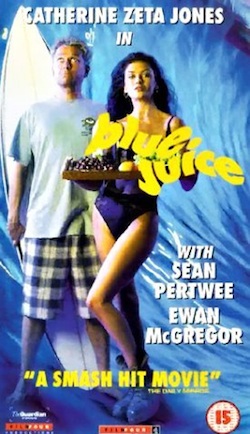 To watch with: your mates
Who's in it: Sean Pertwee, Catherine Zeta-Jones and Ewan McGregor
Token surfer: Andreya Wharry
What I think
As a Cornish surfer this is about as good as it gets. A surf film with proper actors, based in Cornwall with a young scantily clad Catherine Zeta-Jones. I defy you to watch it without saying "I've done that", and I don't mean Zeta-Jones.
Storyline
JC is pushing 30 and living with his girlfriend Chloe in a small seaside town in England. He is a local surfing legend and one day, three of his mates turn up, including Terry who is about to get married. All are facing an early mid-life crisis, one's a successful music producer, another is a drug dealer and the groom to be is boring. JC has his own personal crisis with Chloe: Will he stay with her and run a coffee shop or surf around the world without her?
Did you know
JC tells Terry that his caravan is bigger than it looks from the outside and calls it a "Tardis". Sean Pertwee is the son of Jon Pertwee who played the third Doctor in Doctor Who.
Quotes
None. But the morning charade for "6ft and clean" is genius.
4. Blue Crush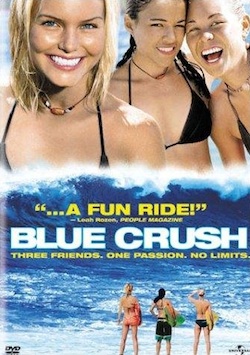 To watch with: your girlfriend
Who's in it: Kate Bosworth, Michelle Rodriguez and Matthew Davis
Token surfers: Rochelle Ballard and Layne Beachley
What I think
Personally I've watched it once and that was enough. It's the candy floss of surf films, nice to look at, leaves a sweet taste but has no nutritional value. However, this is a chick flick with surfing, so it should keep the ladies happy.
Storyline
Anne Marie is a dedicated surfer. She lives in a beach hut with three roommates including her rebellious younger sister. Up before dawn every morning Anne Marie works on her moves on the water, counting down the days until the Pipe Masters. The Hawaiian waves and surf scene are all she needs … until pro quarterback Matt Tollman wades in. Like it or not, Anne Marie loses her way – and finds it – as she falls for Matt.
Did you know
World champion Tom Carroll appears as a surfer with a cut eye early in the film.
Quotes
Anne Marie: What do I want? Oh my god, I want Penny to quit smoking and go to college. I want, I want to be able to pay the phone, electric and rent in the same month. I want a girl to be on the cover of Surf magazine. It would be great if that girl were me, but any girl would do. I want… I mean I wish my mom would come home, and I really, really want to win pipe masters tomorrow, that's what I want.
5. Surfs Up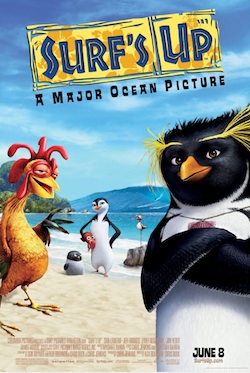 To watch with: your young kids
Who's in it: Shia LaBeouf, Zooey Deschanel and Jon Heder
Token surfers: Kelly Slater and Rob Machado
What I think
It's an animated film about surfing and it's great. A bit slow in parts for really young children and it has the usual Hollywood cliches, but it is funny and it has some great waves ridden by penguins. What you waiting for?
Storyline
A teenage rock hopper penguin named Cody Maverick is nothing but a 'surf fool' in his home town in Antarctica. That's until he gets an invite to the "Big Z Memorial Surf Off" on Pen Gu Island. Young Cody is determined to win the prestigious competition in honor of "Big Z," a deceased surfing legend whom he has idolized since childhood. But the waves in Pen Gu are different than his local break in Shiverpool, and the competition is fierce. Tank Evans, an egotistical big wave charger makes Cody look a fool in his first surf challenge. So Cody is dragged in to the jungle to live and learn from Geek, a reclusive aging former surfer. Predictably they both learn a thing or two about themselves and surfing.
Did you know
The character of The Geek is a homage to another of Jeff Bridges's creations, The Dude, in The Big Lebowski.
Quotes
Chicken Joe: I can feel it in my nuggets
So now you have a surf film selection to enjoy with everyone. So next time you're stuck to the sofa you can still savour some surfing.