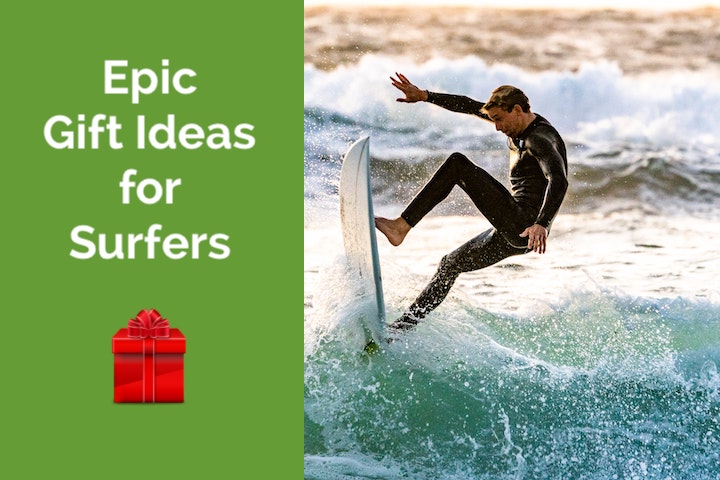 Surfers are easy to buy gifts for. Get them something surf related or help them go surfing and they're happy.
But if you're looking for more customised surf gift ideas for Christmas, birthdays and celebrations, here's some inspiration.
Surf Music Gifts
If the shred head you have in mind likes heavy metal, they'll definitely dig the latest
Billabong collaboration with Metallica
. In honour of Metallica's legendary Black album, Billabong have created heavy stone washed black and grey boardies, t-shirt, cord jacket and even a wetsuit to get your rocks off.
Want fast but less furious? Hunt down some surf guitar music by Dick Dale, like the classic Surfers Choice album on vinyl. Or for something more contemporary try Go Surfing by Bruut! And Anton Goudsmit. Only do downloads? Grab a pair of tickets to a gig for their favourite surf musicians.
Surf Food Gifts
Surfers need fuel. For super surf food inspiration checkout these
cookbooks by surfers
, my personal favourite is Salt and Silver's: Travel, Surf, Cook. Not only is it chock full of gorgeous grub but there's surf travel stories and photos to salivate over.
For the fine diners or more enthusiastic chefs, give the win-win gift of a cookery course. Ideally a local fish chef will teach you to craft superior seafood suppers for a reasonable price. Not only will you give the gift of culinary skills, there's a good chance you'll get a magical meal in return.
Surf Book Gifts
Flick through my
surf book reviews
and you'll discover fiction, non-fiction, and even illustrated novels with a surfing theme. Don't have time to read reviews? Then buy Breath by Tim Winton (fiction), Barbarian Days by William Finnegan (non-fiction) or
In Waves by AJ Dungo
(illustrated). They're not just exceptional examples of surf literature, they're amazing books by any measure.
Not big readers? Buy a surf magazine subscription. They feed tired minds with exotic waves, surf stories and top tips, plus you're supporting an endangered industry. Perfect for lazy days on the beach, brightening up your commute or the perfect complement to your cuppa.
Surf Art and Craft Gifts
From hand cut lino prints to fine oil paintings, there's surf art to suit all budgets and tastes. For example, the talented Tom Metcalf does bold and beautiful
surf fin prints from £45
, or for an original painting inspired by the sea I personally love Jethro Jackson. You can meet Jethro and view his work at
Porthilly gallery
by the beach at Rock, Nr Polzeath. Here you'll find pots, prints, paintings and sculpture by Jethro and other local artists, from the very affordable to 'investment' pieces.
Prefer to make their own art? Then help your lucky surfer make their own wave craft, with Otter surfboard's workshop courses. From handplanes to surfboards, James Otter and his crew will guide you through carving and shaping your own wooden surfcraft.
If you've got any unusual gift ideas for surfers or been lucky enough to receive the perfect surf gift, please share them in the comments below and help others.