I was obviously a very good boy in 2013, as Santa delivered me a very cool yellow Nokia Lumia 1020 for Christmas.
I've been using my trusty iPhone 3 up until now, but decided I needed to confront my Apple Mac habit and try something new.
The camera is magnificent! However I'm a poor photographer. So this post is designed to save you time in finding Surf apps for your Windows phone.
Magic Seaweed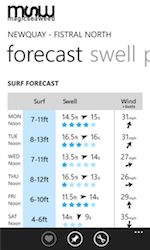 Magic Seaweed is my favourite iPhone app, but it's not as good on the Windows phone. Looking at the reviews on the app store, it fails to work at all for many people.
Anyway it does work for me using Windows 8 on my Nokia Lumia 1020, and it does the job with detailed surf forecasts and playable swell charts, period charts, wind charts and pressure charts.

Surfline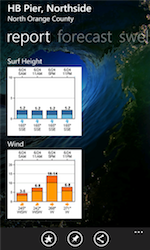 Despite being a U.S. based surf forecast, I've found the U.K. wave predictions 'bang on' so far.
The surf reports consist of charts for:
• surf height and wind
• air and sea temperature
• sunrise and sunset times,
Along with the best swell, wind and tide conditions for each spot.
If you surf in the U.S. and have a Windows phone, you need the Surfline app.
Tide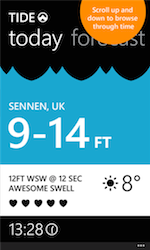 Tide is powered by Magic Seaweed, but the interface is very different. Tide is simple to use and attractive to look at.
That doesn't mean Tide is designed just for 'blond' surfers. I think everyone can enjoy a bit of well designed software, that gives you all the surf info you need in 1-2 clicks.
I think Tide is set to become my surf forecast tool of choice.
Surf Gallery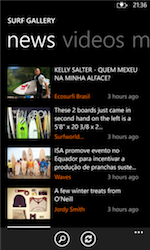 The Surf Gallery app is perfect for a hungry surfer like me. If I could surf 24/7 I would, but I can't – nobody can. So when the waves are unrideable, it's dark and cold outside and your body is aching – tap into some online surf action.
Obviously, check in on the Surfer Dad blog first. But with the Surf Gallery app you have all the latest surf videos and surf news in one place, from a range of quality sources and social networks.
How to surf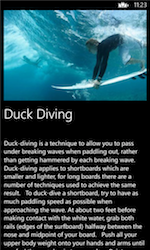 If you're a learner or planning to book a surf lesson soon, then get ahead with the How to Surf app.
With easy to understand advice on paddling, duck diving, catching a wave, standing up, riding a wave and tips for choosing the right equipment – this app is a complete beginners guide to surfing.
When you've built up a bit of confidence, check out the 'big wave' section.
Nokia App Social
If you're into sharing, and I am, then Nokia App Social helps you share and find other great Windows apps from like minded people.
Much like other social networks you can like, comment and follow other members, and their favourite app lists. Unlike other social networks, you can get competitive by liking, following and listing yourself to the top of the Leaderboard.
To find the other Windows surf apps I like and use, just open App Social and search for 'surferdad'.
If you know of any other great surfing apps for Windows phones, please share your discoveries in the comments below. Thanks.
This post was written as part of a partnership with Nokia, however all thoughts and opinions are mine.